BIG FLIPPIN' DESIGN HACKATHON
THANK YOU BIG FLIPPIN' HACKERS, SPEAKERS & JUDGES!
Big big love and thanks to the diverse community of creative minds that joined us for our design hackathon on September 23, 2017. We are so grateful to Goodby, Silverstein & Partners for hosting, and providing such a wonderfully creative space for us to do our work.
Here some photo highlights from the big day! (Coming soon: summary of each idea, and video highlights.)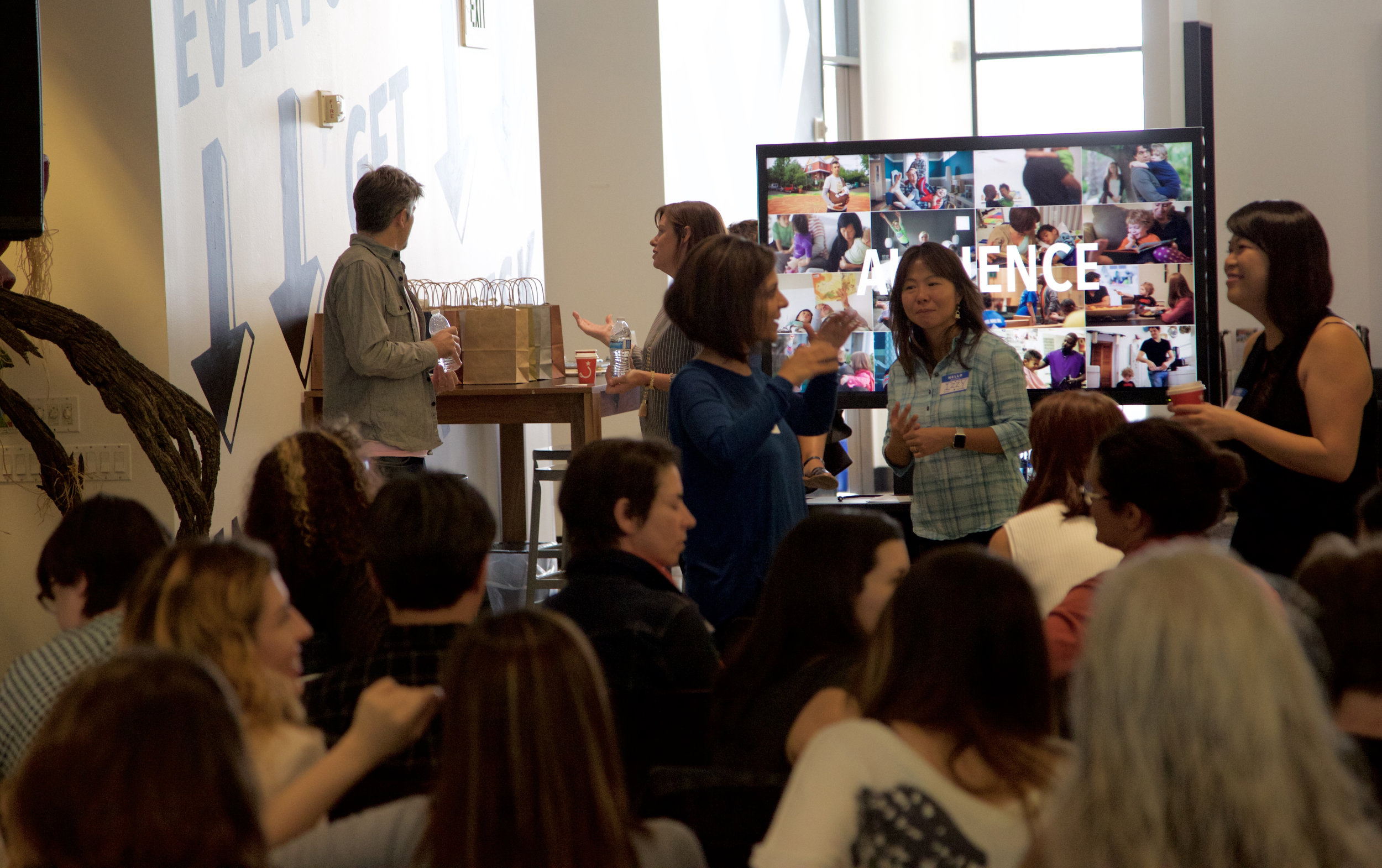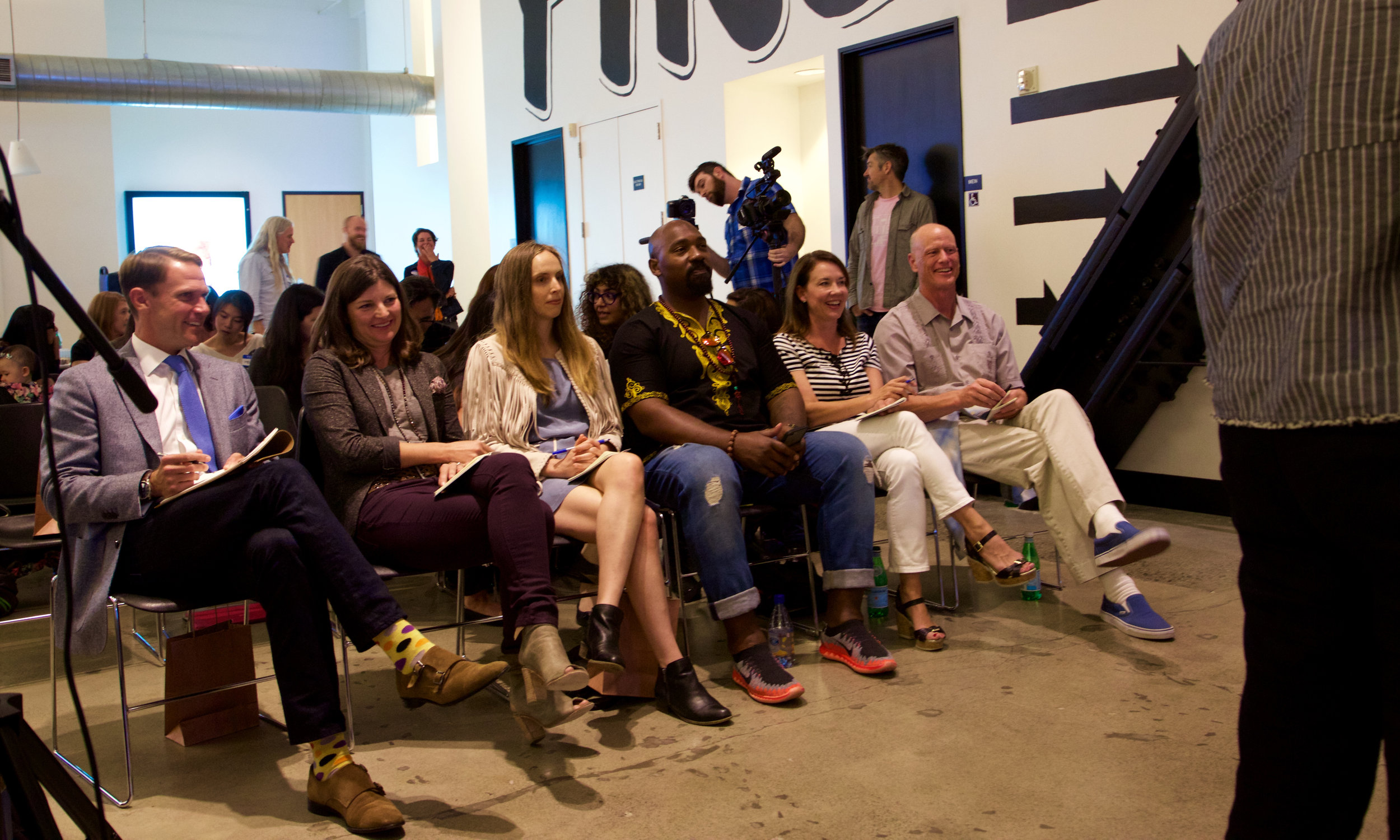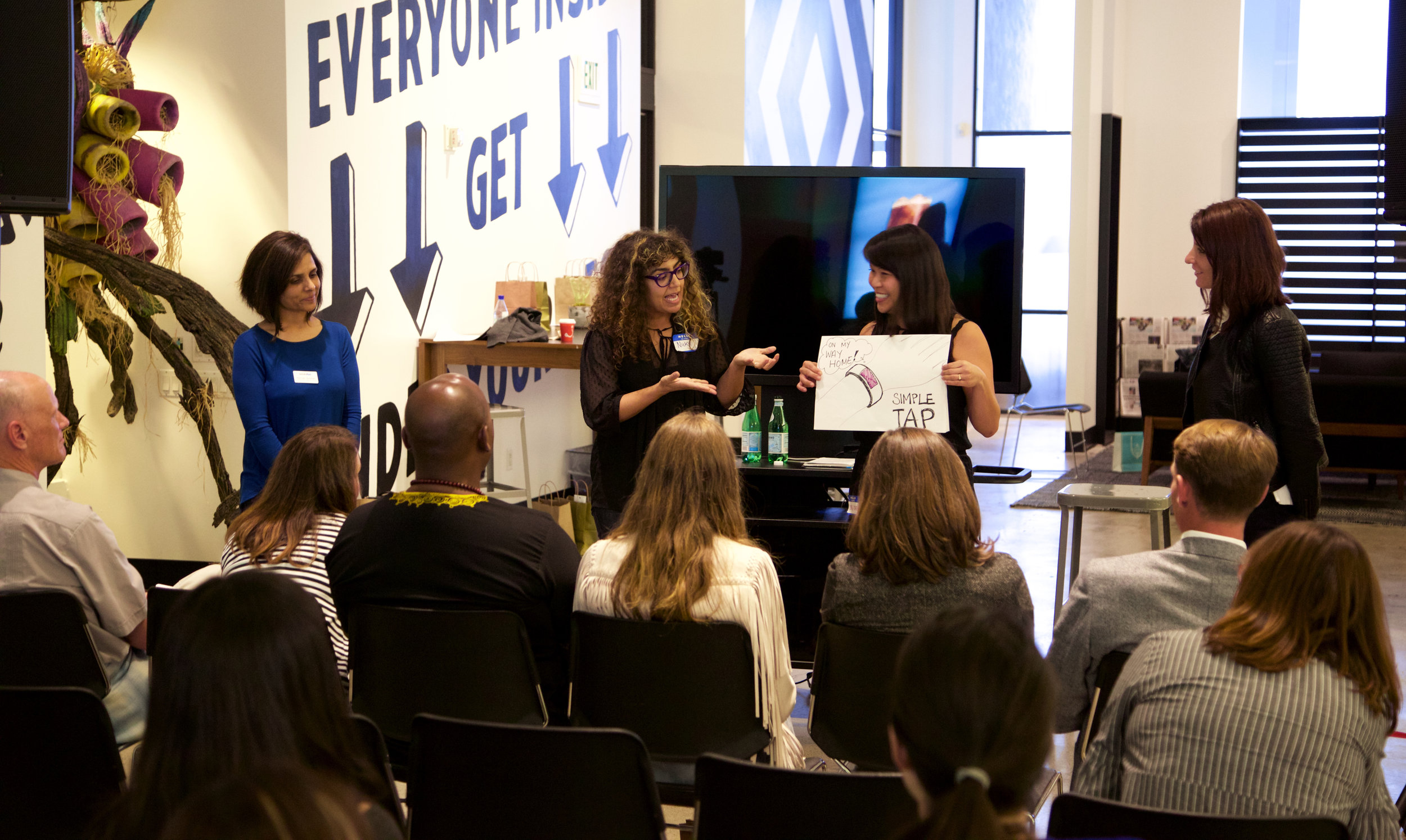 WHY DOES DESIGN MATTER
FOR A DOCUMENTARY?
Because while a documentary is great for inspiring influencers and change-makers (like you!), large-scale change happens when you subtly shift the daily choices and actions in people's lives through the stuff they use and spaces they're in every day.
WE STILL CREATE BASED ON OUTDATED GENDER EXPECTATIONS
Most family products, services and content are still designed assuming the woman is responsible for housework and childcare. Men are too often depicted as bumbling idiots when taking care of house and kids.
The travel and transportation industry goes to great lengths to woo the affluent traveler—which many still subconsciously envision as the high-powered businessman. The typical vision of an affluent female traveler? The seductive vixen or shop-till-you-drop lucky missus accompanying the businessman.
UNTAPPED DESIGN OPPORTUNITIES
This is not just a matter of gender equality. This is about opportunities for new products, services and policies that people want, and businesses are missing out on.
DESIGN FOR WOMEN WHO MEAN BUSINESS
We're not just talking about the 40% of American working wives who out-earn their husbands. We're talking about all the working women and career moms out there who are tired of and frustrated by a world that continues to put the responsibility and burden of home and kids squarely in their domain. And the unique needs of the high-end female business traveler? That's a world of little-understood needs and desires waiting to be discovered and met!
DESIGN FOR MODERN MEN WHO CARE
Similarly, we're not just talking about full-time at-home dads. We're talking about the many modern husbands and caring dads who are actively engaged with parenting their kids and manning the home front. These men would welcome more options, ideas and choices that speak to the diverse ways they want to parent and man the house—and not assume they're simply taking on the roles of moms and housewives.
DESIGN FOR MIGHTY GIRLS AND THOUGHTFUL BOYS
Beyond the gender make-up and financial roles of the parent(s), many modern families are eager to raise their kids in a gender-neutral environment that allows them to fully explore and express their potential.
Associate Creative Director at global design and strategy firm frog. frog's mission is to advance the human experience through design, and strives to create the world as it should be.
Partner at Alloy Product Development. Alloy collaborates with top designers to turn their visions into exceptionally-engineered products that inspire delight and loyalty.
Tinkerer at Google. Andy joined Google when the startup he co-founded, Launchpad Toys, was acquired by Google. Launchpad Toys excelled in digital toys that empower kids to create and learn, and is embraced by creative teachers in thousands of classrooms worldwide.
Justin and Staci are proud big flippers—Justin is a happy stay-at-home dad to their first child, while Staci is a Director at Gilead Sciences.
We want a diverse range of innovative thinkers. Product designers and tinkerers who like to make stuff. Working moms and caregiving dads who represent the modern family. Engineers and developers who love problem-solving. Storytellers who can bring ideas to life in compelling ways. If you enjoy working in teams and the challenge of friendly competition—we want you!
You will work in teams of 4-6 people. In the evening, each team will present their idea to a panel of judges comprised of investors, industry experts, entrepreneurs, at-home dads and working moms. 2 honorable mentions and 1 winner will be picked.
WHY YOU DON'T WANT TO MISS THIS
1) Fame & glory! The winners and their winning idea will be gloriously featured and memorialized in a beautifully-designed companion booklet that will be distributed digitally online, and printed and included with the DVD. All participants and ideas will be captured and recognized in the booklet. In addition, we'll create a short video that captures the day's highlights—a digital keepsake for all participants.
2) An incredible day of learning and networking! We want you to leave feeling inspired and delighted, and have planned the day carefully to make that happen—engaging speakers, good food, great people, and a fun post-hackathon party to celebrate your accomplishment!
3) Prize for the winning team: the Start-Up Booster Pack
Business consultation: 30-min meeting with a successful start-up founder on running your business
Investor consultation: 30-min meeting with an early stage investor on raising capital
Product development consultation: 30-min meeting with a product development expert to discuss your concept
Crowdfunding consultation: 30-min meeting with Director Izzy Chan on running a successful crowdfunding campaign
Branded materials: nothing makes an idea feel more real than business cards and swag! We'll design and print your first set of business cards (200) and your first batch of swag (10 caps, 10 T-shirts, 10 tote bags)
2-minute documentary-style video of your company/product by award-winning Director Izzy Chan
ALT PRIZE OPTION: If your team is in this just for fun and to flex your creative muscles, no problem! The winning team can opt for a $500 check instead of the Start-Up Booster Pack.